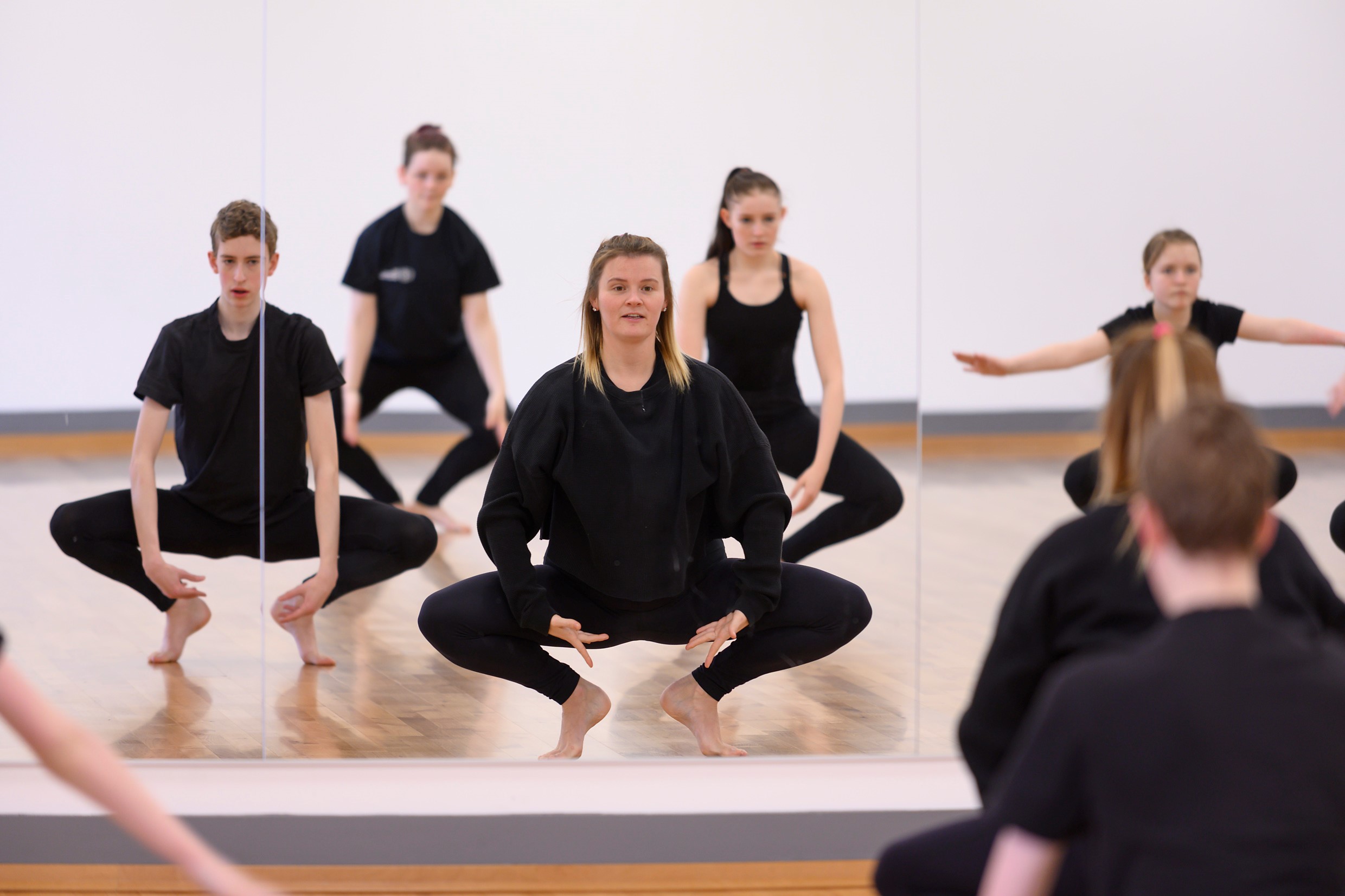 Dance North Youth Summer Programme
This year's summer programme comes to you virtually through our online classes over four weeks from Tuesday 14 July to Tuesday 11 August. Join us to learn contemporary dance technique, choreography and performance skills. Young people will have fun exploring their creativity and learn from professional dance artists, as well as each other. We are also excited to present special guest teachers from across Scotland.
Thanks to the Scottish Government Wellbeing Fund, we have purchased two tablets that are now available for loan to enable participation in online classes. If you would like to borrow one, please e-mail info(at)dancenorth.scot.
Online Junior Contemporary
For dancers age 7-11
Thursdays, 11.00-12.00 noon
(16th, 23rd, 30th July and 6th Aug)
Online Senior Contemporary
For dancers age 12-18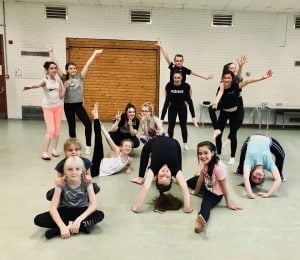 Tuesdays, 4.30-6.00pm – Contemporary Barre and stretch
(14th, 21st, 28th July and 4th Aug)
Thursdays, 4-6.00pm – Contemporary Technique
(16th, 23rd, 30th July and 6th Aug)
Classes will be taught by our regular tutor Tiffany Broadfoot with Laura Johnston-Scott.
Exciting guest artists will also teach once a week as an optional extra class for the Seniors.
Dance and Movement Group
For dancers age 8-14 with additional support needs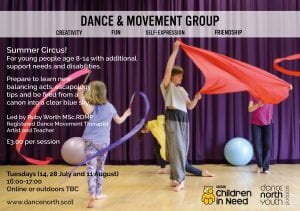 Tuesdays, 4-5.00pm – the first two classes will take place online and the third will be in an outside location where guidelines allow. We will keep you updated
(14th, 28th July and 11th Aug)
Ruby Worth the tutor of DMG on what we've been zooming into…
"In our Dance Movement Group's weekly Zooms so far we've been sharing lots about our experiences of this present time. Like what has energized us this week? What has called to us from nature? What was our favourite outside adventure? We've shared these experiences through our bodies (after all everybody is a body) and become part of each other's experiences. To date we have travelled our feet along the intricate pathways that some birds have left upon a beach, we have jumped into the waves of our North Sea and shaken ourselves up with all its energy. We have hung upside down like bats baring our teeth and ran away from a field of bulls." Read more
This programme is supported by the Scottish Government Wellbeing Fund and Children in Need
About the tutors
Tiffany Broadfoot
My interest in dance started at the age of three in my local RAD ballet dance class, where I completed examinations up until Advanced 1. From that day until now I have been fascinated how the movement of the body can transcend what can often not be put into words, without total clarity.
In 2011 I graduated from Anniesland college with an HND in Dance Artist. For many years I worked as a freelance dance artist in the Inverclyde area, working with young people from 5-21 on developing their contemporary dance technique skills as well as exploring their creativity skills. I also had the absolute pleasure of working with 60+ groups.  Throughout my time as a freelance dance artist I had the opportunity to oversee an education dance project as well as choreographing for a primary school's curtain raiser, Within the wolf on a professional dance show, Wolves by Barrowland ballet. Lastly, as a freelancer I have created choreographic work for the annual Galoshans Parade which was showcased in Dreamlands in 2016 and Alice in Wonderland in 2017.
In 2018 I had the amazing opportunity to work with Scottish Ballet as an Engagement officer providing at-risk young people with a new and enriching cultural experience to access dance through The Close Project. During my time at Scottish Ballet I was also lucky enough to work as part of the Health team, delivering dance classes to participants living with Parkinson's via the Dance for Parkinson's Project, and those living with Dementia through the Time to Dance project.
In September 2019 I started my journey with Dance North as Dance Tutor, delivering classes to both Junior and Senior youth groups, 60 plus groups, who access dance through the SET dance project and dance classes for those living in Care homes.
Laura Johnston-Scott
I have been dancing since the age of 3, but my passion was truly ignited when I moved to Verona, Italy where I started classes in Street Dance at the age of 7. I went on to join NU ERA dance crew, with whom I became Italian national champion in 2003. At the age of 14 I started to train in other disciplines such as ballet, lyrical, contemporary and jazz and in 2005 was invited to be a dancer for IUVENIS DANZA, a contemporary dance company based in Verona with the aim of realising theatrical productions and cultural projects.
In 2008 I moved to Oxford where I worked as a professional dancer for contemporary dance company Joe Lott Dance and in 2010 was involved with the project management of Moving Oxford (based on the London event Move It), an event that started my passion for dance development and outreach projects.
Since then, I have worked for a variety of organisations and dance companies in Italy, Australia and UK, with the objective of creating opportunities of public engagement and social inclusion through the medium of dance, and my practice is rooted in working in an interdisciplinary and collaborative manner to bridge gaps between different community groups. After working as Dance Development Officer for the Western Isles (2013-2015), I moved to the Highlands to work as part of the Eden Court CREATIVE team, that at the time operated the largest and most extensive outreach arts education programme of any UK theatre. I worked directly with primary and secondary schools in the Highland region, and collaborated with the Eden Court CREATIVE team of dance, drama, digital and additional needs workers.
In my most recent role as Associate Artist with plan B (2017-2019), I organised and produced an annual programme of professional dance work and its delivery, managed and developed the company's young company and other community projects as well as working on their final double bill tour production as Rehearsal Director. In 2019 I went full time freelance delivering community dance classes across Highland and Moray, have been making work for touring under the name LJS Projects, and in October gained my Masters Degree of Education in Teaching and Learning Performing Arts with The Royal Conservatoire of Scotland.
Ruby Worth
Ruby Worth is a theatre and dance practitioner, a teacher and a registered dance movement psychotherapist. Presently, Ruby is furloughed from her role as dance practitioner for Eden Court Highland, on holiday from being a Drama Lecturer at Inverness College UHI and is really enjoying running her freelance practice over Zoom from her living room by Findhorn Bay.
I gained a Masters in Science in Dance Movement Psychotherapy (DMP) at Queen Margaret University in Edinburgh. My placement was at New Craigs Psychiatric Hospital in Inverness; here Dr McNamara, Lead Consultant Psychiatrist for Highlands, supervised me. He encouraged me to find somewhere in the community to run my DMP groups and 1:1's and I approached Eden Court Theatre who said yes. At the theatre I worked with adults who were using the mental health services and during my studies I met an extraordinary man who had spent 15 years in social isolation. After a year of 1:1 work together he came to join the group at Eden Court, in his final evaluation he spoke of his experience of DMP as "Coming back to life is what happened to me, I found I became stronger as a person through dance".
Eden Court Theatre offered me a part time post as Theatre Arts Worker for Adults with ASN. Over the 10 years I worked in this post I co-directed the Integrated Performance Group with Eden Courts Drama Artist John Batty steadily it grew from 12 members to having 50 plus members, adults with ASN and carers all took to the stage together. My favourite show I have ever made I made with this group, all I have to do is dream was performed at Eden Court Theatre and at the 2016 Findhorn Bay Festival. What made it so special for me was that the performance was at the Universal Hall Arts Centre in Findhorn giving it a real feeling of homecoming.
My role at Eden Court Highland changed last year and I presently work part time as the Dance Practitioner within the Engagement Team. I am also a Drama Lecturer at Inverness College/UHI where I teach Movement, Devising and Physical Theatre for the HNC year and Autonomous Performer a final year module on the BA Honours Drama and Production programme.
I have worked with Dance North as a Dance Movement Therapist for the Dance and Movement Group (DMG) since it's beginning in 2012. It was seeded by Jeni-Lin Knott, a social worker for children with disabilities within Highland Council. It continues to be a treasured part of my practice, I have witnessed and supported a heart making spectrum of growth, life changing behaviours and attitudes in the young people I have worked with and feel very honoured and privileged to have chosen this path in my practice. Children in Need have funded the DMG group since 2017, this was the first time Dance North secured a 3 year funding and this is the summer to celebrate it. Being in Lockdown has made life challenging for many young people with ASN and their families, these sessions have brightened up all our weeks. I am looking forward to our summer school very much.