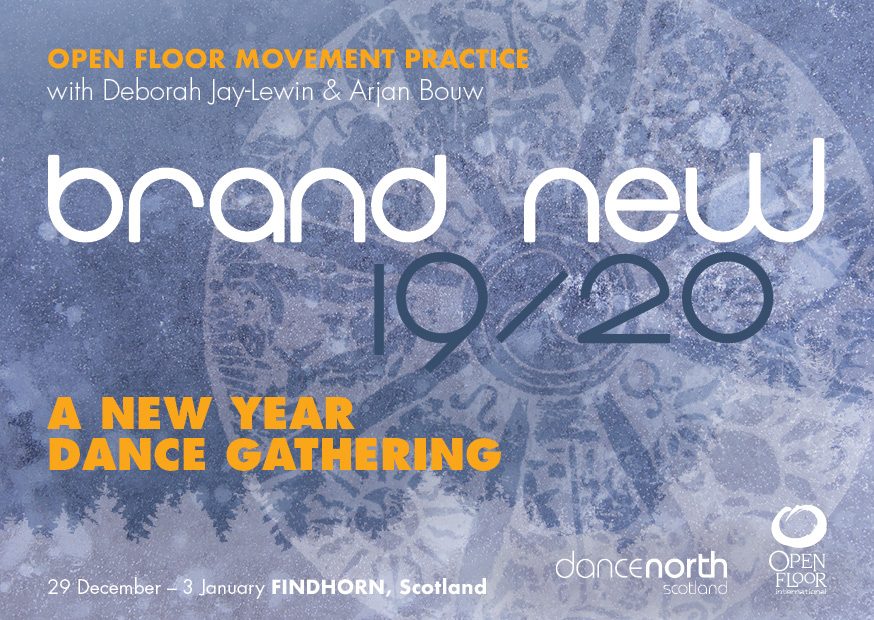 Brand New 19/20
This event is now FULLY BOOKED but please email info@dancenorth.scot if you would like to be added to the waiting list.
A six-day New Year dance gathering with Deborah Jay-Lewin and Arjan Bous. Open to all!
We invite you into a container that is generously held; by Arjan and Deborah, by the Findhorn community and by the sea which surrounds us. We love to create a safe space where depth is welcome and ignite the spark of life. Our Open Floor practice provides tools to guide us into profound dances for healing and for celebration, as we end our year together and take our first steps in loving company.
This event is has a spacious timetable built around:
Lots of time for dancing
open session with the community (Sun 29 Dec, 7.30-9.30pm)
time for walks
dinners from 29 Dec to 3 Jan
late night Hogmanay party
hot tub every night
The venue for the gathering is the magnificent Universal Hall Arts Centre in the Findhorn EcoVillage, NE Scotland, within easy reach of Inverness and Aberdeen airports. The community is a major international centre for personal and spiritual transformation and sustainable living. It is situation on a two-mile long peninsula amongst beautiful beaches, sand dunes and woodland.
Click here for advice on travel and accommodation options.
About Deborah and Arjan
Deborah (vitalmoves.co.uk) has been teaching on this event since 2001 and is delighted to once again be co-teaching with Ajan (arjanbouw.nl). They have each been dancing and teaching around the globe for over 25 years.