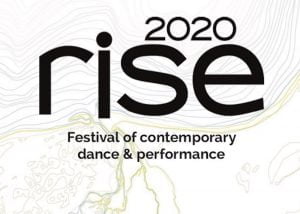 With so much unknown we have decided to cancel Rise 2020, and not as previously stated postpone the festival until later in the year.  Our commitment is to minimise the impact on artists and freelancers of this and other related decisions and as such, all contracted Rise 2020 artists and crew will be paid their agreed fee.
We are very grateful to Creative Scotland, the main funder of Rise, who we believe is showing exemplary and supportive leadership and is very clear that we should, wherever possible pay artists and freelancers, irrespective of the impact that coronavirus has on any ability to deliver activity.
We are extending  an invitation to all artists booked for Rise 2020 to consider bringing their work to Rise 2021 – planned as a three day festival over the first or last weekend of May 2021 (tbc).
We are also looking into the potential of  presenting something related to Rise  in autumn / winter 2020.  This could be a smaller one day or evening of shows, a web streamed show, or screening of work.
Watch this space for further announcements of the new dates and fantastic line up of performances.