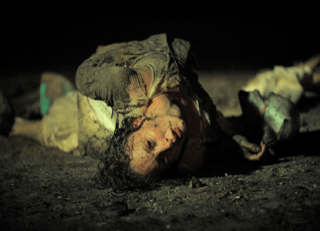 The unfamiliar lying close to the familiar
One Day Workshop Opportunity with Athina Vahla
We are delighted to have choreographer,  Athina Vahla with us at the moment, working on completing her PhD. While here, Athina has offered a workshop to share her practice. We are endeavouring to do this outdoors, adhering to government guidelines, at the Dancing Green within the Findhorn Foundation and on the beach. Athina's work has a strong visual identity; rich in symbolism, often site-specific, epic in scale, and aspires to create living environments for the audience to inhabit and explore. She is fascinated with the body and its physical limits, the manipulation of gesture and spatial design. She works with a range of professional collaborators as well as children, older people, martial artists, disabled performers and non-professionals.  The workshop will begin with an exercise warm-up and continue with short creative tasks and improvisations exploring movement, gesture and intention in physical performance drawing from (Body Weather, Beckett, T. Brown, Lefebre). In the afternoon, physical work will be transferred to particular sites.
What to wear and bring: Notebook, comfortable clothes, trainers, masks, sun lotion, your favourite outfit/dress swimming costume, underwear, coat
Travel expenses will be covered for those part of RAS (regional artist support).