Residency workshop with Sinéad Hargan and Anya Sirina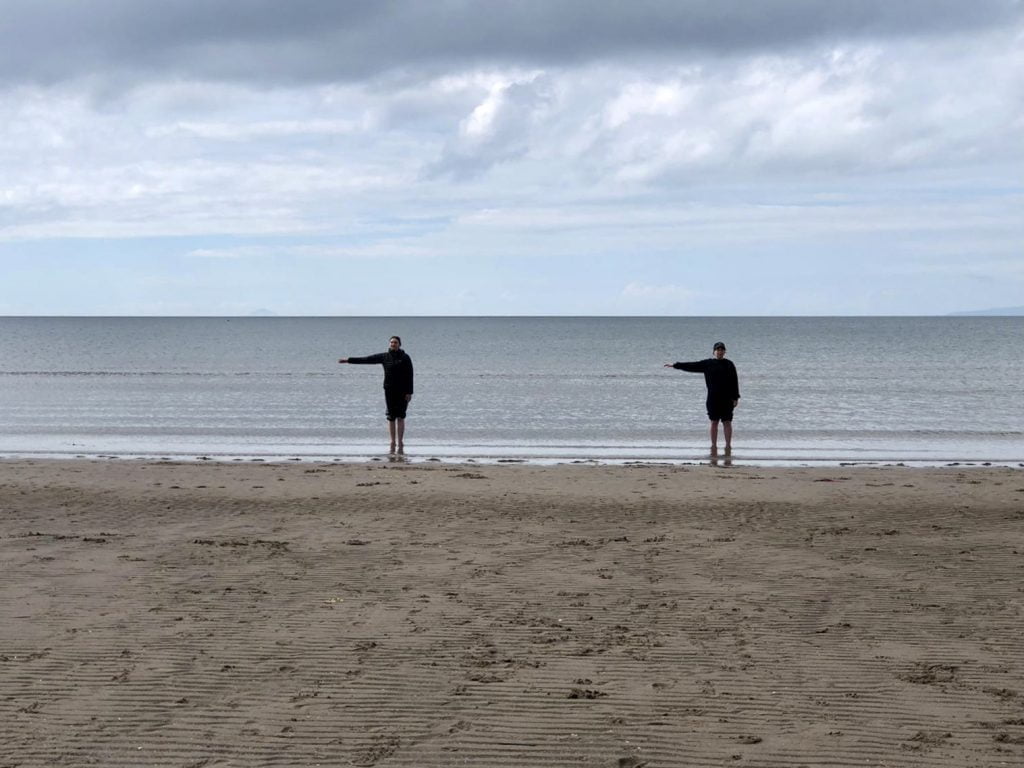 This workshop is an opportunity to connect with other artists and to explore what working with the sea, the tide and time can offer our practices.

Sinéad Hargan and Anya Sirina are artists in residence at Dance North from 20th September – 2nd October. This residency is part of their year-long research project, Seeking Spaces Eroded, an exploration into performance making at tidal sites: spaces of a shifting and changing nature that reflect the ephemeral qualities of performance itself.
We are concerned with connecting to our senses as a radical act of engaging with and experiencing place. The physicality of experiencing location; placing our feet in the sea water, lying in the sand allowing the earth to support our backs, is at the core of our collaborative practice. What we find in these places shapes the work we make. How can turning to the sea for inspiration become an act of resistance?    
The morning will be spent by the sea, arriving and acknowledging the place, and our presence in it, through a guided audio walk. Sinéad and Anya will then lead the group through participatory performance tasks and intuitive making practices to generate a durational performance score and shared movement language.
There will also be a chance to talk through these tasks. Sinéad and Anya will guide structured conversations and writing tasks to disseminate ideas from the activities and offer food for thought and future working practices. This is an opportunity for us to talk about why we make, and what we search for through creative practice. We will have the opportunity and space to speak through our practices and challenges honestly, and offer advice and support to one another.
This day will be the last day of Sinéad and Anya's two-week residency with Dance North. They hope for this morning to be refreshing and re-energising for the participants, as well as a day for reflection on their process and a space to share their collaborative research practice. This project is supported by the Bruce Millar Graduate Fellowship from the Royal Conservatoire of Scotland and Dance North.
The day will run from 10am – 1pm.
About the artists
Anya and Sinéad are graduates of the BA Contemporary Performance Practice, 2019. Deeply rooted in their collaborative practice is the desire to find an intuitive process-led approach to making performance work. They have been developing a collaborative research practice since 2018 and have presented work at Embassy Gallery; Fringe World Festival, Australia; Central Scotland Documentary Festival; and Cardiff Dance Festival.
Anya Sirina is a performance-artist and choreographer based in Glasgow. In her work, she plays with the audience-performer relationship to explore the dichotomy of vulnerability and empowerment. Anya saturates her movements with meaning through the use of repetition, creating an atmosphere of changeability or flux wherein actions  seem violent, sensual and humorous all at once. Anya's choreographic practice attempts to marry the cerebral and visceral, creating profound movement compositions driven by conceptual and visual narratives of transformation. She is part of the 2021/22 Dancers Emerging Bursary Scheme at Dance Base.
@anyasirina
Sinéad Hargan works with live performance, participatory performance, voice and film. Her work is centred around acts of collective grieving, she creates new rituals and radically reshapes old traditions in order to access a deeper understanding and care for the world around, for the more-than-human. She is currently Caithness Artist in Residence as part of the Highland Culture Collective, focusing on the environment and coastlines of the region and using the methodologies of co-design, co-creation and collaboration with communities so that the work is participatory, inclusive of many voices and is rooted in the communities that live there. Sinéad is the Artsadmin BANNER Awardee 2019/20.
https://www.sineadhargan.com/work
@sineadhargan