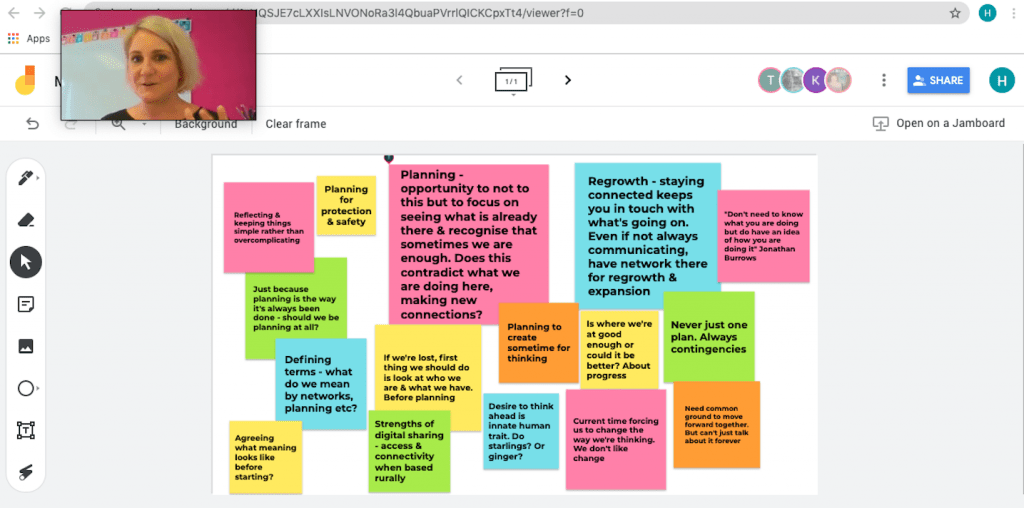 Reflections on our first Mycelium Network Lab
The original intention had been for the first Mycelium Lab to take place in Kokkola, Finland, as part of the Kokkolan Talvitanssit dance festival. Unfortunately, with the current COVID-19 restrictions in place, this was not to be. International travel became increasingly difficult and the festival itself ended up being cancelled. Instead, we brought the 8 supported artists (2 from Scotland, Finland, Lithuania and Norway, respectively) alongside the project team in a digital forum on the 18 and 19 September 2020.
The first session, moderated by Amy Fee (Generala Manager at Danscentrum) was a chance for everyone to introduce themselves and to discuss what individuals needed from the network, expectations of the project, what resources were available and the expertise and interests within the group. A wide and varied discussion covered a lot of themes including: how to have a sustainable career in rural locations; youth & inclusion work; learning from each other; sharing artistic processes; defining what a network can be; and advocating for dance and dancers.
The second session was an open session where other creative individuals and organisations were invited to join us to discuss rhizome theory within network development. We were delighted to welcome Lindsay Dunbar (a 'cultural crofter') as facilitator for this session which brought together nearly 30 individuals from 5 countries. Considering examples from nature (i.e. how a ginger root can be snapped off but start growing again or how starlings flock in murmurations to find safety in numbers), the session offered an opportunity to consider how what we are planning for and how we can exchange knowledge and collaborate meaningfully anymore.
The final session was a three-hour workshop led by Teppo Virtanen (arts and business coach) where the group discussed some of the challenges of using a non-hierarchical structure within network development and learnt some rudimental coaching techniques around asking open questions. It was also an opportunity to break out into smaller groups and foster connections between individuals.
The whole event was a fantastic beginning to the project, a chance to connect and initiate new relationships with other creative individuals and organisation from other countries despite the digital constraints.
We will be continuing these conversations, and plan to deliver more open sessions between now and the next lab so watch this space! We keep our fingers crossed that we will be able to meet in person at the beginning of 2021 in Hammerfest.