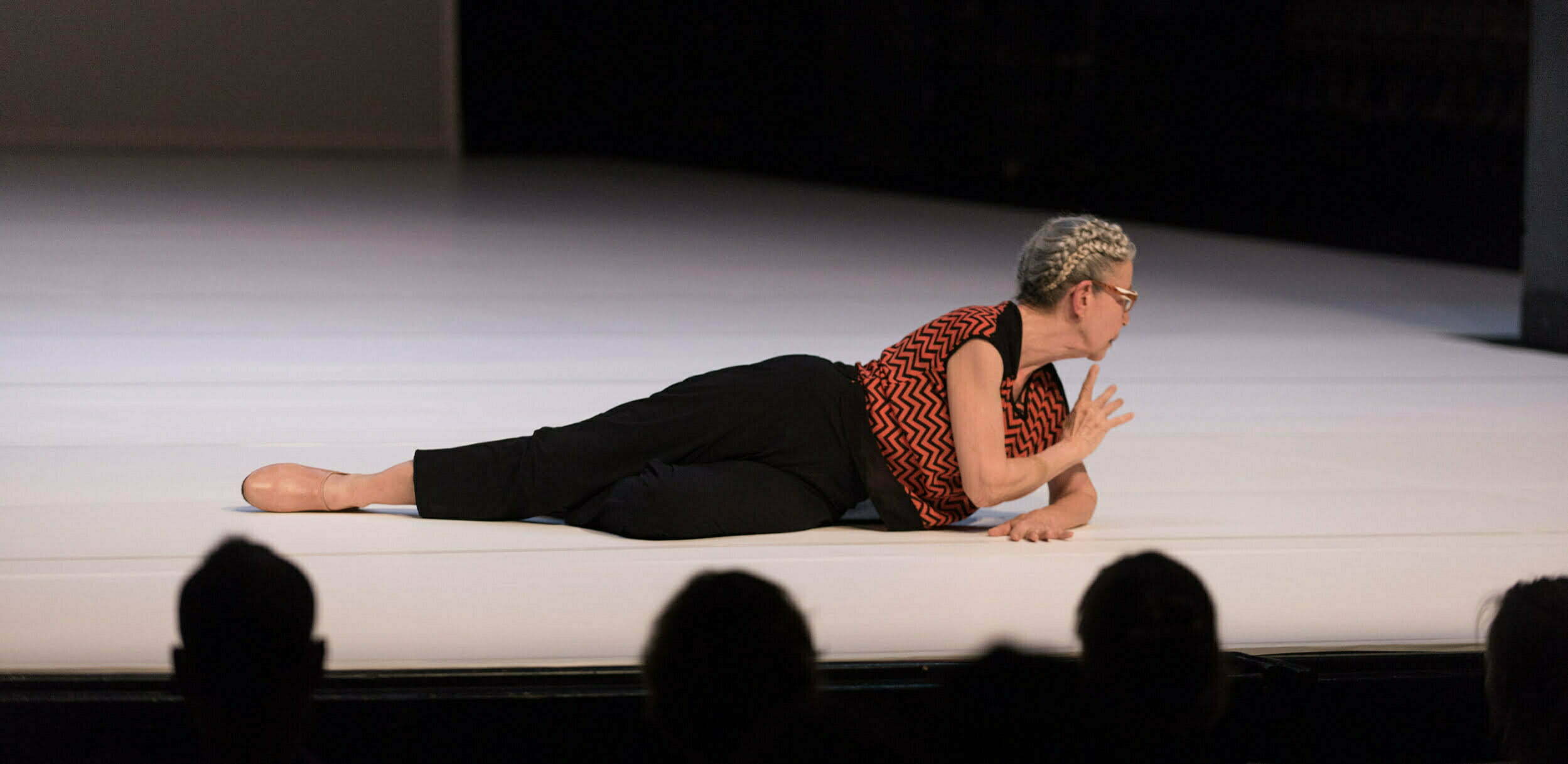 Down to RAW : Deborah Hay Now
Live Screening and Talk
Continuing a 20 year collaborative partnership, Independent Dance and Dance North have joined forces this autumn to bring you Down to RAW, a collection of work by Deborah Hay from 1968 to the present.

In addition to this online programme, we will be presenting a live screening simultaneously in Findhorn and London, with Deborah Hay joining us from Austin, Texas.
This offers a rare opportunity to come together as two communities in parallel to listen to and be in dialogue with Deborah Hay, an artist who has spent five decades at the vanguard of choreographic experimentation, helping to re-define the field of dance with her revolutionary work and influential publications. Prior to Deborah's talk we will show two short films from her Down to RAW collection:
Alignment is everywhere (2019, 20min)
Alignment is everywhere is an intimate portrait of Deborah Hay by filmmaker Peter
Humble and interviewer David Young. It was shot in in Melbourne on a 16mm hand-cranked camera using expired and hand-processed film stock. Premiered at Berlin's Tanz Im August (2019) and since shown in various venues.
my choreographed body… revisited (2019, 20min)
For 50 years Hay has gradually been enlarging her practice of movement and
performance through her own body-based experiments. In this recorded solo she pays
tribute to this wealth of experience and for the first time she performs without
the compositional edifice that previously determined one solo from another.
Recorded in 2019 in the context of Tanz Im August / RE-Perspective Deborah Hay: Works
from 1968 to the present, Berlin, Germany
Deborah Hay
Choreographer/performer Deborah Hay began her career in the early 1960s with the Judson Dance Theatre. In her five decades at the vanguard of choreographic experimentation, she has helped re-define the field of dance with her revolutionary work and influential publications, in particular Lamb at the Altar, Duke University Press, and My Body, the Buddhist, Wesleyan University Press, and most recently a 2019 expanded edition of Using the Sky, Wesleyan University Press.
Since the 1960s Hay has researched new approaches to choreography, pairing unique forms of creative scoring with her distinct modes of practice and adaptation. Recent recognition of her work include an Honorary Doctorate from the Theater Academy in Helsinki 2009. In 2012 she received an inaugural Doris Duke Artists Award. In May 2015 the Minister of Culture and Communication awarded Hay the title of Chevalier De L'ordre des arts et des Lettres. In August 2019, Berlin's Tanz Im August presented a month long RE-Perspective of her work. The Cullberg Company will premiere Hay's latest work Horse, the solos, in Gothenburg, Sweden, August 21, 2020.
The Down to RAW collection consists of three documentaries featuring conversations with Deborah Hay including an interview with Jeanine Durning. A further four videos are of performances of choreographed works made between 1968 and the present. These include works shown at MoMA's Judson Dance Theatre installation as well as solos performed by Eva Mohn, Ros Warby and Deborah Hay.
This unique collection of seven films will be available online for two weeks, from 4 – 17 October. The full list of films can be seen at: https://independentdance.co.uk/event/down-to-raw-deborah-hay-now-online-films/
If it's more practical for you, geographically, to attend the live screening & talk event with Independent Dance at Siobhan Davies Studios in London, you can find booking information here.
Image: My choreographed body… revisited | Photo: Camille Blake 2019 of Deborah Hay