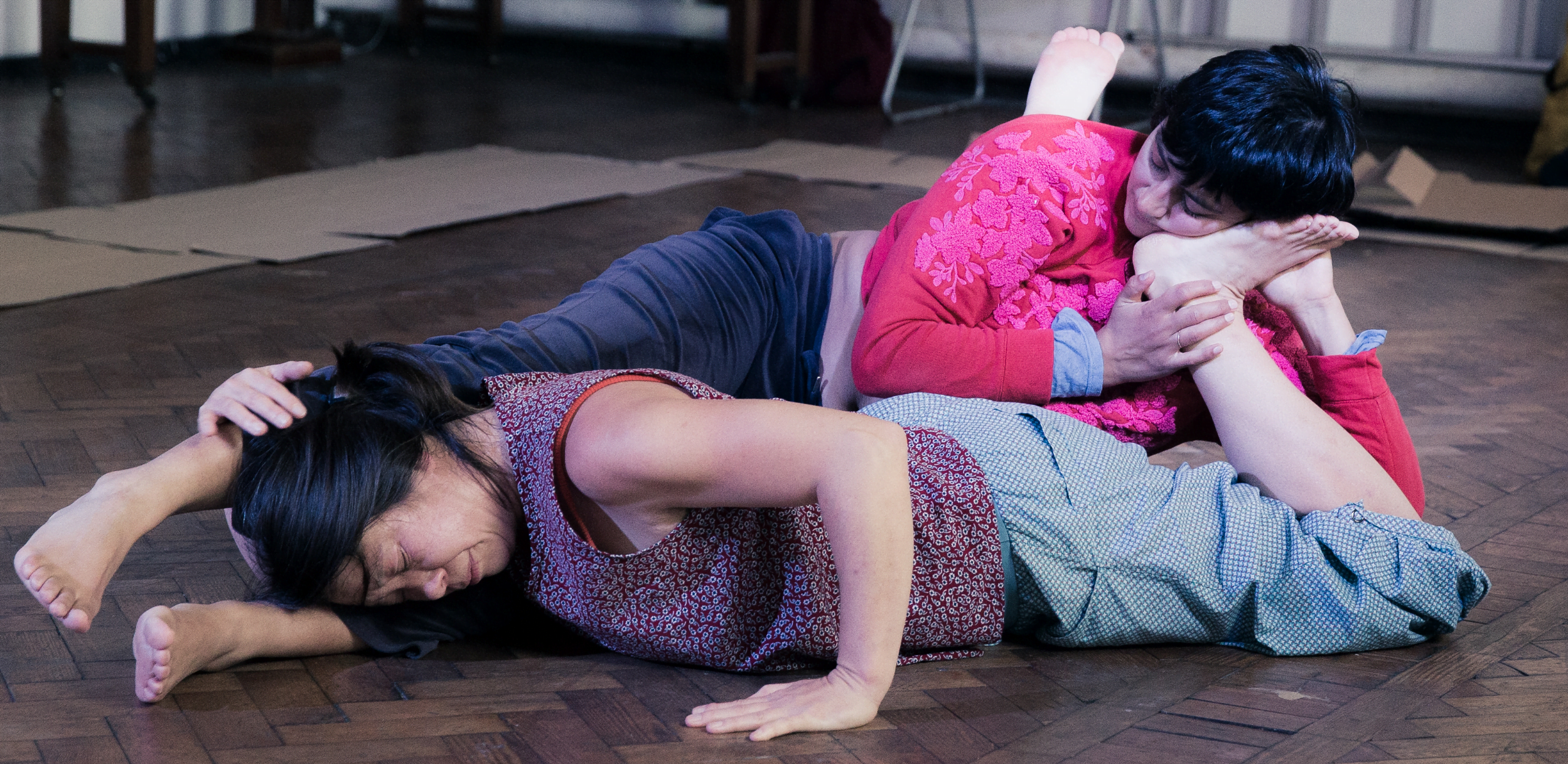 Marathon of Intimacies
Anushiye Yarnell & Jo Fong
RISE 2021 | Marathon of Intimacies
Artists Anushiye Yarnell and Jo Fong will be in residency at Dance North in the week in the lead up to their presentations of Marathon of Intimacies.
The performance is an embodied conversation between two women about getting what they need.
Marathon is a word associated with endurance and winning.
Intimacy is overused in describing performance.
These two words marathon and intimacy don't fit together.
All the intimacies that have been part of our lives, could they be with us while we're dancing?
'Dancing – often alone in a studio or elsewhere sometimes seems a refuge, an escape from life.
Yet is also a way to become wholly cellular, including the real as well as the imaginary.
Perceptual actions germinate in a bed of thoughts and feelings foraged from life.
When I imagine dancing, talking with someone else.
I wonder how "otherness" can become one another, each other.
A touch which includes resonance and dissonance.
'This is how I imagined a series of dances entitled Marathon of Intimacies: a habitat of "otherness" and one another-ness: of the recognition which comes with being stranger '
– Anushiye Yarnell 
'For me, this work with Anushiye emerged from our walking in parks and talking about race. White rooms, family, shame, power, being heard, justice, presence… in these last months I've been searching, looking everywhere around every corner for how my nearly 50-year-old body can be a part of the conversation. In 2020/21, I've been practicing saying the truth and with Anushiye I felt I was able to learn to speak the truth.
'The strategy at the moment is small, safe, hyper-local and with purpose.
'And the question I'm holding closely is, "What is unburdened arts practice for women of colour?"'
– Jo Fong

RISE 2021 | Marathon of Intimacies
Photography: Lara Ward and Noel Dacey
A special thank you to Cathy Boyce, Charlie Morrissey, Rabab Ghazoul, Eeva-Maria Mutka and Andy Paget.
Marathon of Intimacies is part of a larger library of work. If you would like to know more about this research and performance project, please contact Anushiye or Jo.
Jo Fong
Jo lives in Cardiff and her creative work reflects the need in these times for people to come together. Her artistic practice is an evolving, collaborative approach which puts ideas around belonging or forming community at the forefront.
The work is cultivated through face-to-face contact, it's about connection, communication and how we live together. Recent research and performances include 'What Will People Need?' with Battersea Arts Centre, Neither Here Nor There was created with artist and writer Sonia Hughes, The Rest of Our Lives with circus artist George Orange and Ways of Being Together, is a mass collaborative movement project was created at Chapter for Cardiff Dance Festival and then re-created for Chinese Arts Now Festival, Shoreditch Town Hall.
Jo's been to Findhorn before, she presented An Invitation… for RISE 2016 and again with Quarantine's Wallflower in 2019.
This year, Jo was appointed Creative Associate at the Wales Millennium Centre.
Anushiye Yarnell
Anushiye is an  interdisciplinary dance maker and performer whose work is drawn from personal experience, past and  future  mythologies. Her works examine the intersection of dream and fantasy realms with ordinary life, seeking out connections between day-to-day experiences of the world and anthropological, philosophical, poetic and artistic  frameworks.
"Dance is a way of treasuring that which is at once beautiful and difficult about life. For me dance is embedded within the ephemeral, fallible, sensory, cellular and temporal."
Through this terrain, each performance navigates its way towards a transformative destination. I dance through an assemblage of scores occupying the questions I have about life- including death, humanity, love, the animal and the divine. Though personal experience is the source for these performances, they seek out the universal, the mutual, and the possibility for an imaginative experience, unique to each person within the audience. I strive to recreate each piece individually for each specific space responding to the framing of each moment, how it colludes with my life at that time and the intimate relational space into which I invite the audience.
In recent years my dance has been mobilised intimately in relativity and intersectionality to motherhood & childhood – utilising questions generated by female aspects and dimensions of Evolution as navigational tools for dance. I see my performance as a habitat to dissemble segregative forces in society and civilisation which play out in gender, class, race and age.
I seek to initiate collaborations based on exchangeable sovereignties – to be a force of anti segregation which does not compromise the distinct and vivifying voices of difference which resound within perceptual and experiential realms."
My curiosity about the nature of Love as an orbital axis of Humanity has led me to curate as well as make work for three international performance Platforms- Animal Love, Heavenly Love and Future of Love Projects, bringing together artists from Japan, Peru,  Korea and the UK to to respond to the framing of Love as a question of human identity and self-understanding.