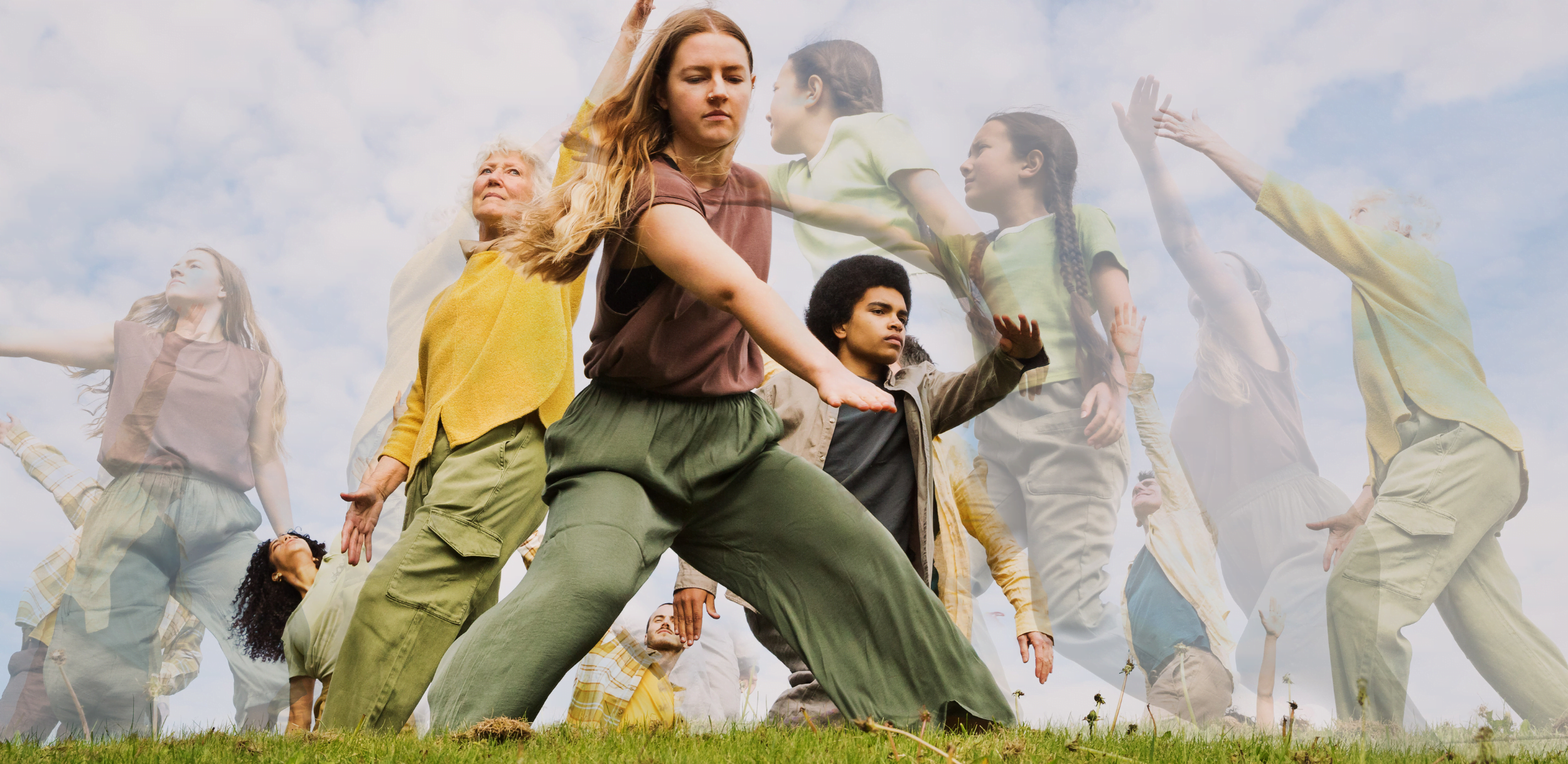 THREADED FINE – Scotland
Rosemary Lee
A durational performance
Saturday 11 June, 12pm – 5pm
Choreographer Rosemary Lee has brought together a cast of dancers from across Scotland and ranging in age from 9-70+ years to create a new site-specific version of her Threaded Fine project.
One after the other, 24 dancers perform the same short solo accompanied by a continually looping song composed by Isaac Lee-Kronick and performed live by Jamie McCarthy. Beginning with the youngest and ending with the eldest, each dancer brings their own unique quality to this repeating, almost ritualistic performance.
Commissioned by Dance North and in partnership with Scottish Dance Theatre with support from Creative Scotland. Produced by Artsadmin.
Saturday 11 June will be a full-day festival with three special events connecting the body with community and sense of place.
All events can be attended by purchasing a ticket for the full day. There's no fixed price, just pay what you can and join us for a day of dance, film, food and celebration.
Credits:
Performers (in order of appearance):
Asha Fenton
Otis Gilmore
Ava Rooke
Ruben Shearer
Millie Goodyear
Erin Currie
Yasmina Patel
Aeron Preston
Jessie Roberts-Smith
Kieran Brown
Ben McEwen
Pauline Torzuoli
Laura Bradshaw
Julia McGhee
Simone Kenyon
Natasha Gilmore
Fiona Edwards
Claire Pençak
Clive Andrews
Cath Giles
Mhairi McIntyre Allan
Sue Mitchell
Irene Kelso
Rosie Orr
Conceived and directed by: Rosemary Lee.
Choreography:  Rosemary Lee, with support from assistant choreographer Aya Koyabashi and interpretation by the performers.
Composer: Isaac Lee-Kronick
Costume design and styling: Alison Brown 
Company Manager: Gail Sneddon
Production Manager; Alma Lindenhovious
About the Artist
Choreographer Rosemary Lee is based in the UK and known for working in a variety of contexts and media. Over thirty years she has created large-scale site-specific works with cross-generational casts, solos for herself and other performers, video installations and short films. Her work is characterised by an interest in creating a moving portraiture of the performing individuals and communities she brings together, whilst also exploring and highlighting our relationship with our environment. 
Over the past 10 years Rosemary has mainly been inspired to make work in outdoor urban and rural locations including: Square Dances (Dance Umbrella) involving 150 performers in four London squares; Under the Vaulted Sky – a promenade work for 80 participants in a cathedral of trees for Milton Keynes International Festival; Liquid Gold is the Air (created with Roswitha Chesher) an award-winning video installation touring cathedrals and galleries; Without, a seven-screen video installation capturing a panoramic view of the city of Derry/Londonderry as hundreds of participants move through the streets; Calling Tree (co-directed with Simon Whitehead) which takes place in the canopies of urban trees; and Passage for Par (Groundwork, Cornwall) a durational work for 30 women slowly crossing tidal sands. 
She is a Work Place artist, Senior Research Fellow at C-DaRE Coventry University, holds an Honorary Doctorate from Roehampton University and has an Honorary Fellowship from Trinity Laban.